To conclude November's theme of Being a Better Keeper for Your Sister, I want to touch on a topic that was circulated post Girls Trip. Which is the notion that we should be checking in on our strong friends, but we should also being checking in on all our friends.
Throughout the series, I've noted how we as Black women, are able to serve as a means of healing for each other. By reminding us of our humanness, and keeping us grounded. With that though, while it is so easy to get caught up in the day to day that is life, we must create the time to truly check in on our sisters.
There have been countless times where my sisters, while random in their timing, would call me right on time. Catching me either mid pity-party, or when I was too ashamed to discuss certain issues that were plaguing my mental. While you still may be too uncomfortable to discuss, a chat with our girls can remind us of ourselves and help us return to our normal.
In most friendship circles though, there is always that one person who assumes the nurturing role among the group. She's the one you call when; your man cheated on you, that check bounced, or when you need to bounce an idea off of someone. She's always there, and not only for you, but for presumably everyone in her world. Within all of this, we must consider who is being all of the things for her, that she is for everyone else.
She is me, and while self-care becomes a huge factor here, in terms of refilling your glass. Our sister circle needs to do a better job of spreading around that responsibility. Below are three ways to help carry that burden, and aid our sisters in refilling their glass.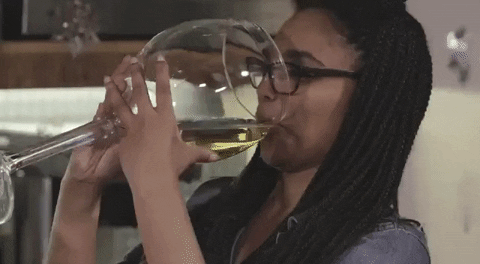 I literally just did this very thing last night. It is so refreshing to throw back some wine and to speak candid as fuck, about what's actually going on in our lives. Without hiding behind the mask that is our lives. When we actually address our issues, is how we can make some headway into changing them. Until then though, simply talking about them has a way of releasing them from your scroll length list of worries.
Sometimes we need to be taken to a new dimension. To leave ourselves, and examine life from a perspective that we rarely tap into. In our cognitive mind, there are so many factors that hold us back from speaking and living our truth, even to ourselves. Dank induces a safe space for us to encourage life plans, and to help our sisters strategize about their what's next.
*Disclaimer: This type of elevating higher ain't for everybody*
As Black women, from birth, the majority of us weren't taught to love ourselves. Therefore, many of us have lead our lives outsourcing love and happiness. While failing to understand that we have the key. Remind your sister of this, who she is, and what she is capable of.
I hope that throughout this month's series you were able to identify at least one way, if not many ways to practice being a better keeper for your sister.
While understanding that my passion and niche is self-actualization, these themed series allow for me to deliver the type of content that I'm most passionate about, and in a way that provides solution for my baddies. With 2018 around the corner, please keep your eyes peeled, because the B. Bad brand is deepening and expanding. Stay tuned!